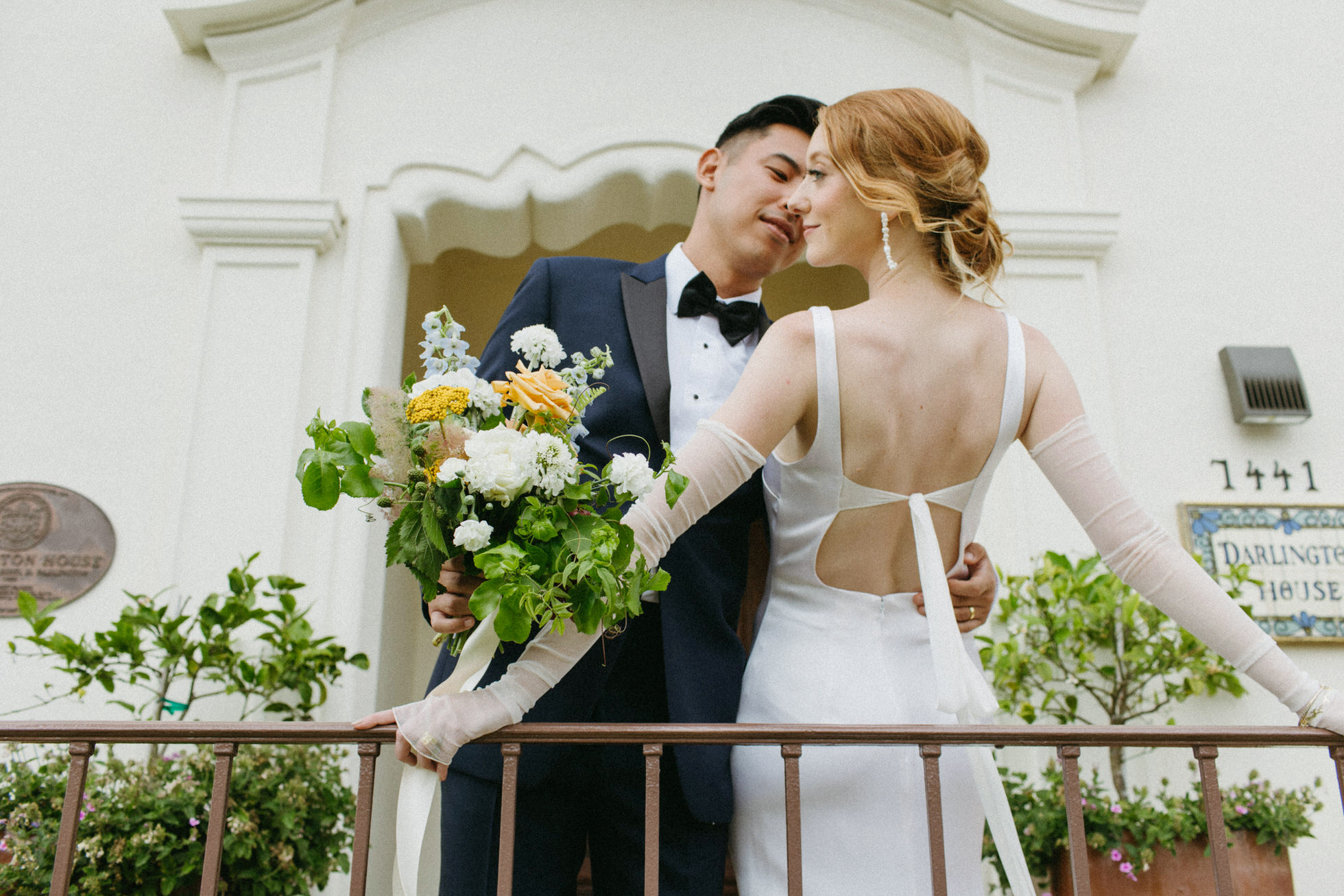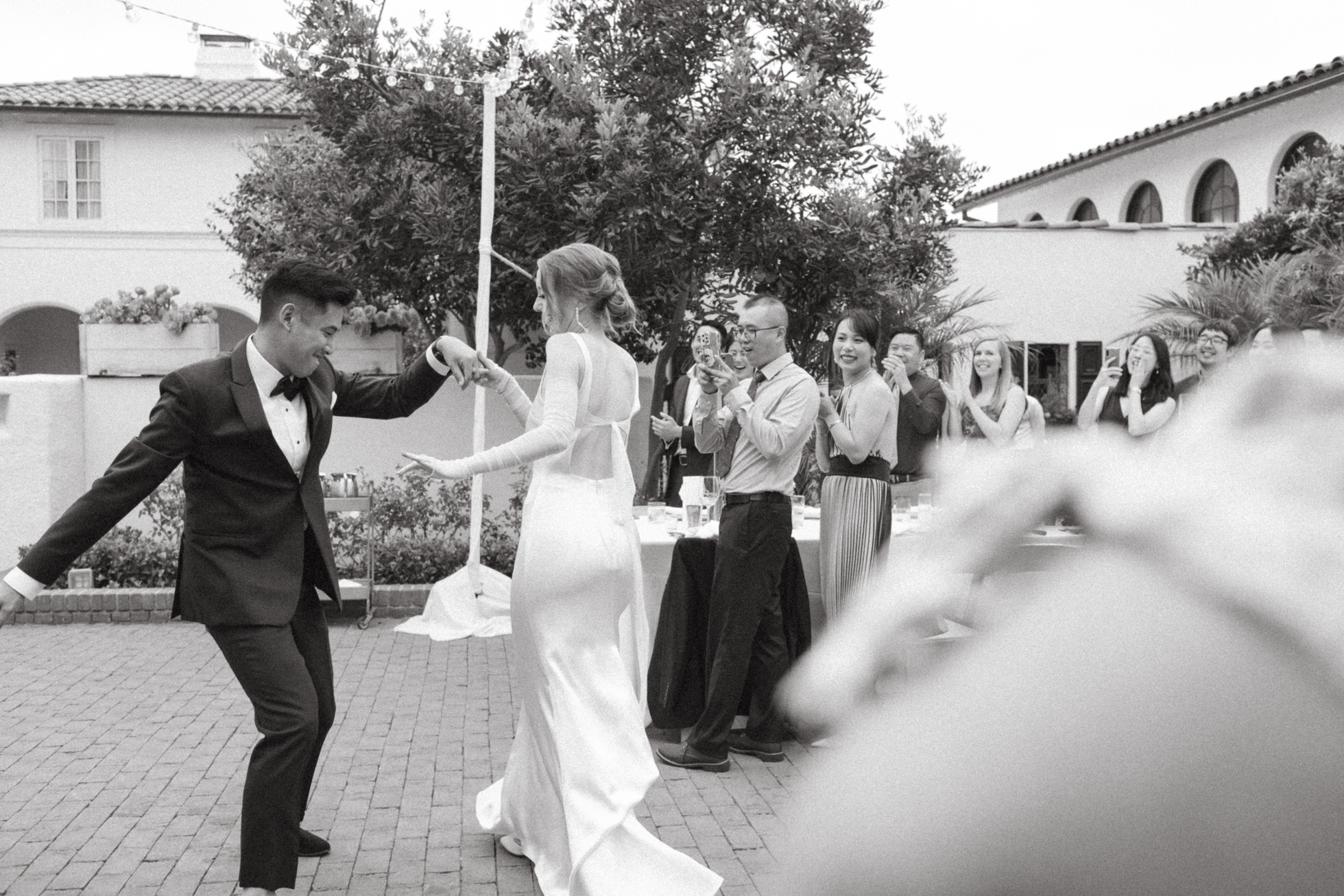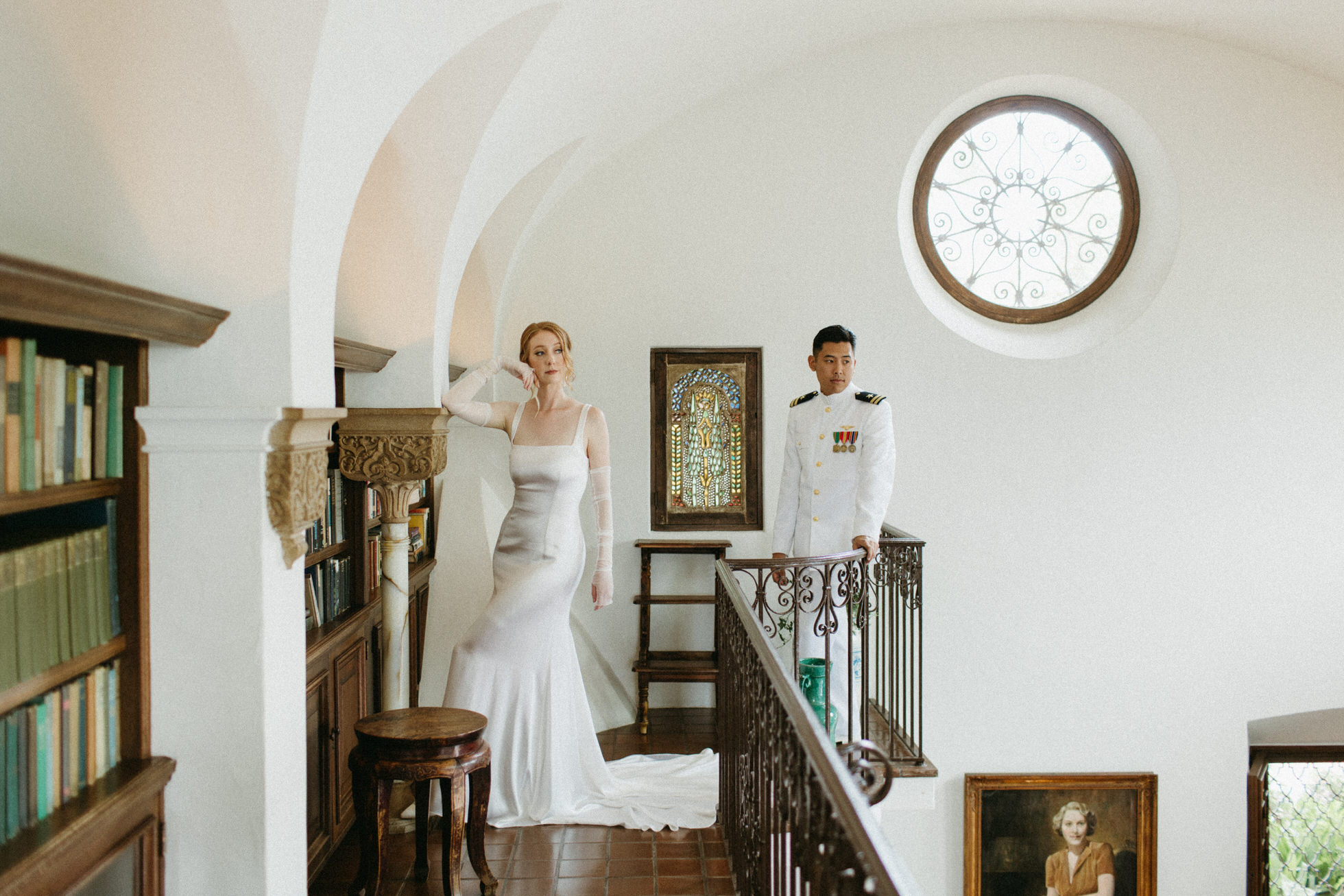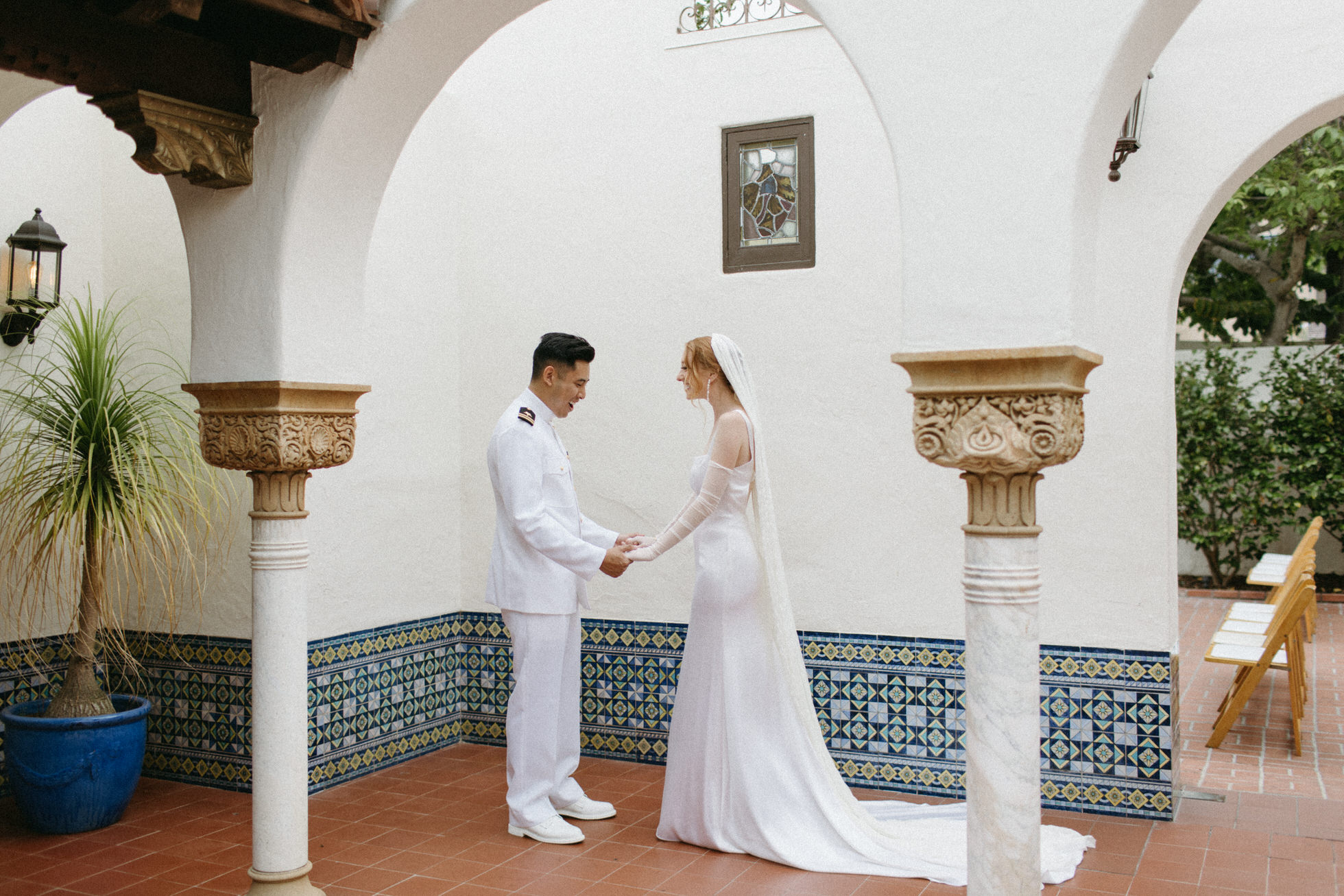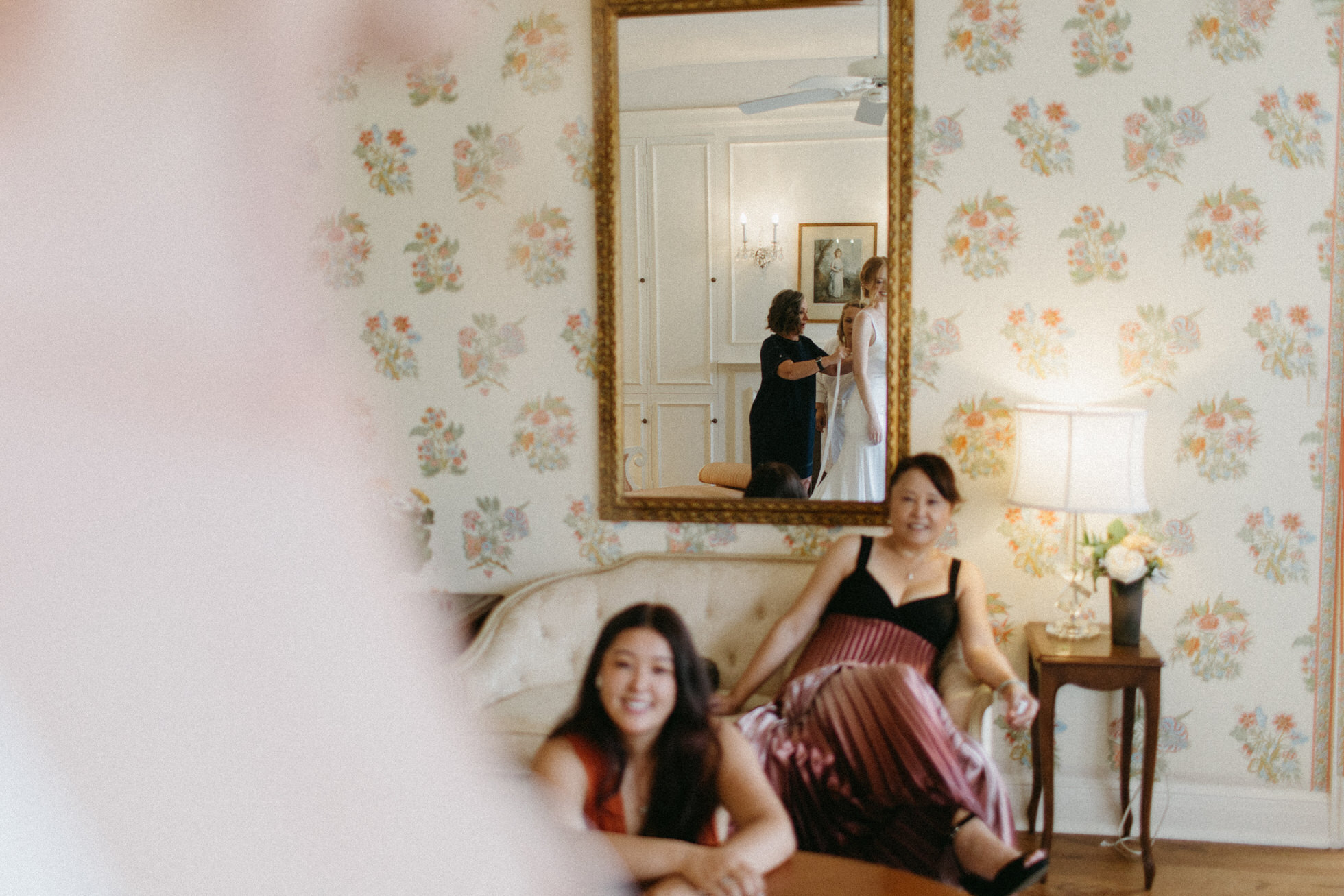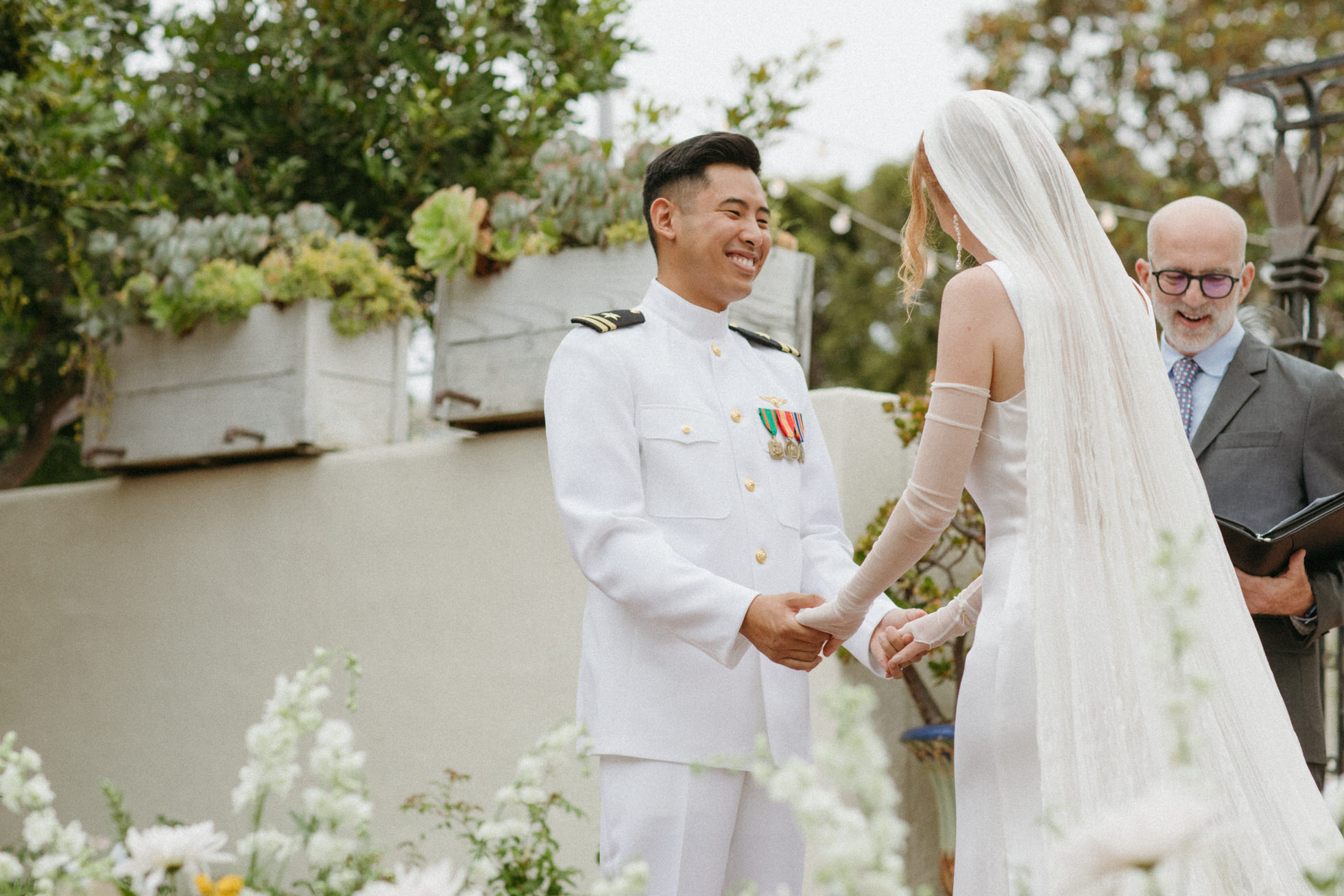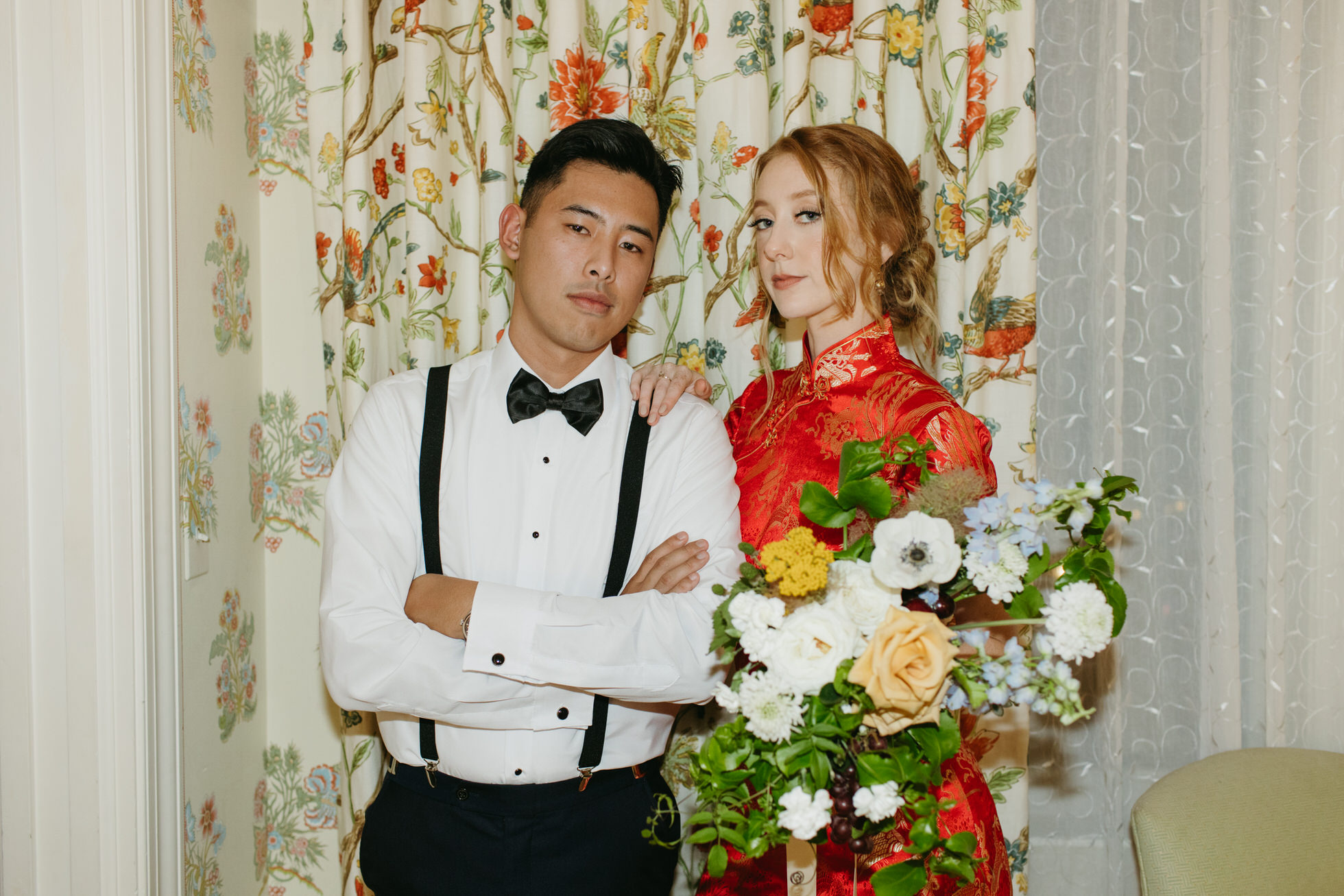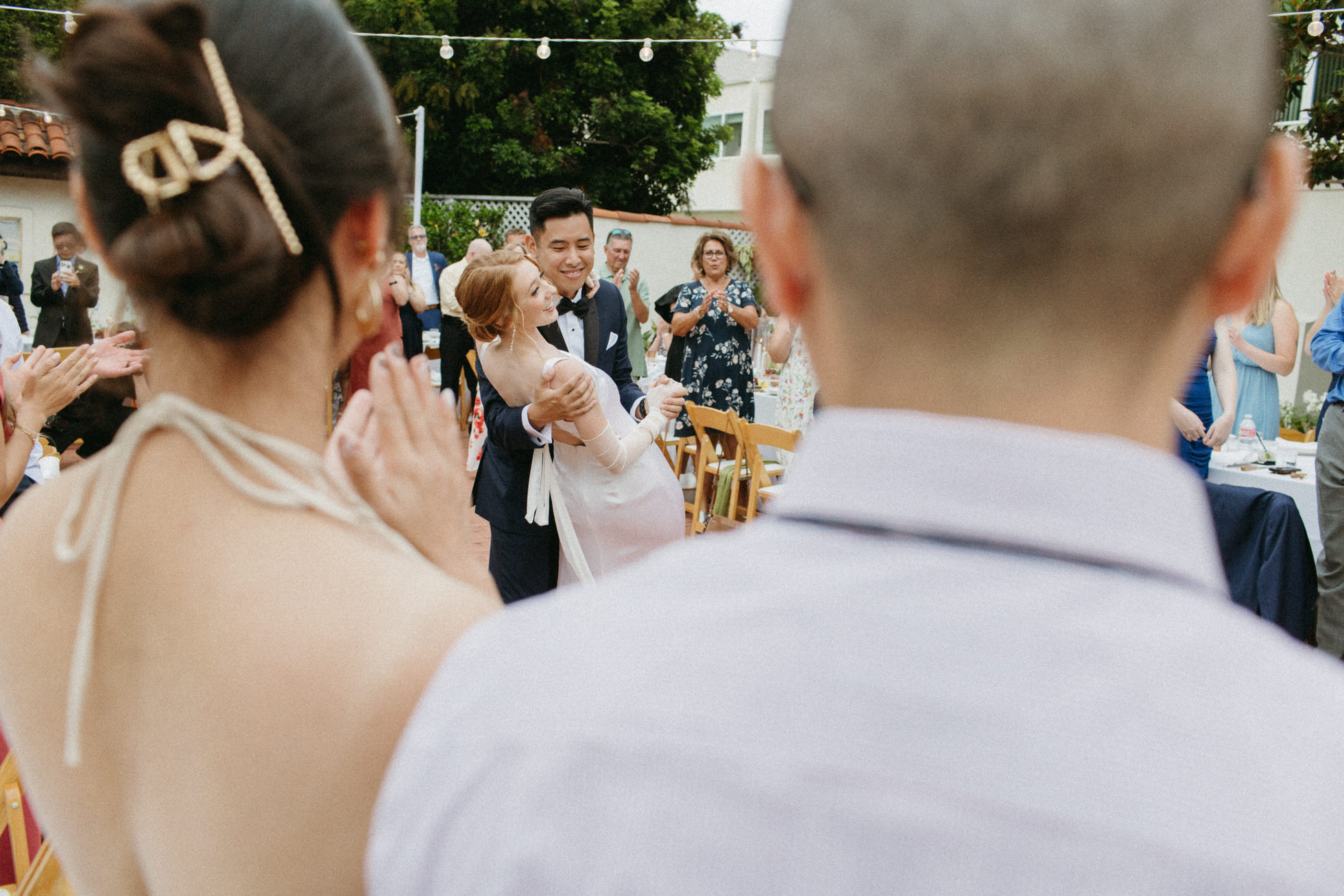 Olivia and Kent's Wedding at the Darlington House
Olivia had just gotten home from teaching English abroad for a year, she walked into a bar in Pensacola, Florida and met her future husband. They talked all night, ending the evening at Waffle House at midnight. After a few months of dating they moved to San Diego together. Needless to say, they were inseparable ever since. Kent loves how easy it is to talk to Olivia for hours. Olivia really adores Kent's ability to patiently love all the people he's close to. When I met them, I could see the perfect mix of timeless and modern romantic nature & an effortless love. They were always looking at each other with adoration, quietly giggling to each other.
The couple wanted their wedding day to be a celebration of the people who have been there for them throughout their relationship. As friends and family would be traveling from all over the country, they saw this as a great opportunity to bring everyone together. San Diego was special to them as it was the place they had made a home. La Jolla is where Kent had taken Olivia to watch one of the sun set over the Pacific ocean for the first time. This made it the perfect location for their wedding.
I loved the way that Olivia and Kent really brought in their own style to the Darlington House. She wore a dress that was so effortlessly chic and fit the historical vibe of her wedding venue so well. She wanted something that felt classic but had a bit of a twist. I personally loved the organza bow on the back and the gloves on her Cinq wedding dress. Kent was just in awe when he saw her for the first time. He could not stop staring during our entire portrait session and I thought it was so sweet.
As a photographer, I love when couples take my advice and really enjoy their wedding day. That's exactly what these two did! They were so relaxed and had such a great time celebrating their love. It was a perfect day filled with good people and good vibes. I was so honored that she trusted my photography approach and wanted to spend her day being present with her people. It was truly amazing to witness.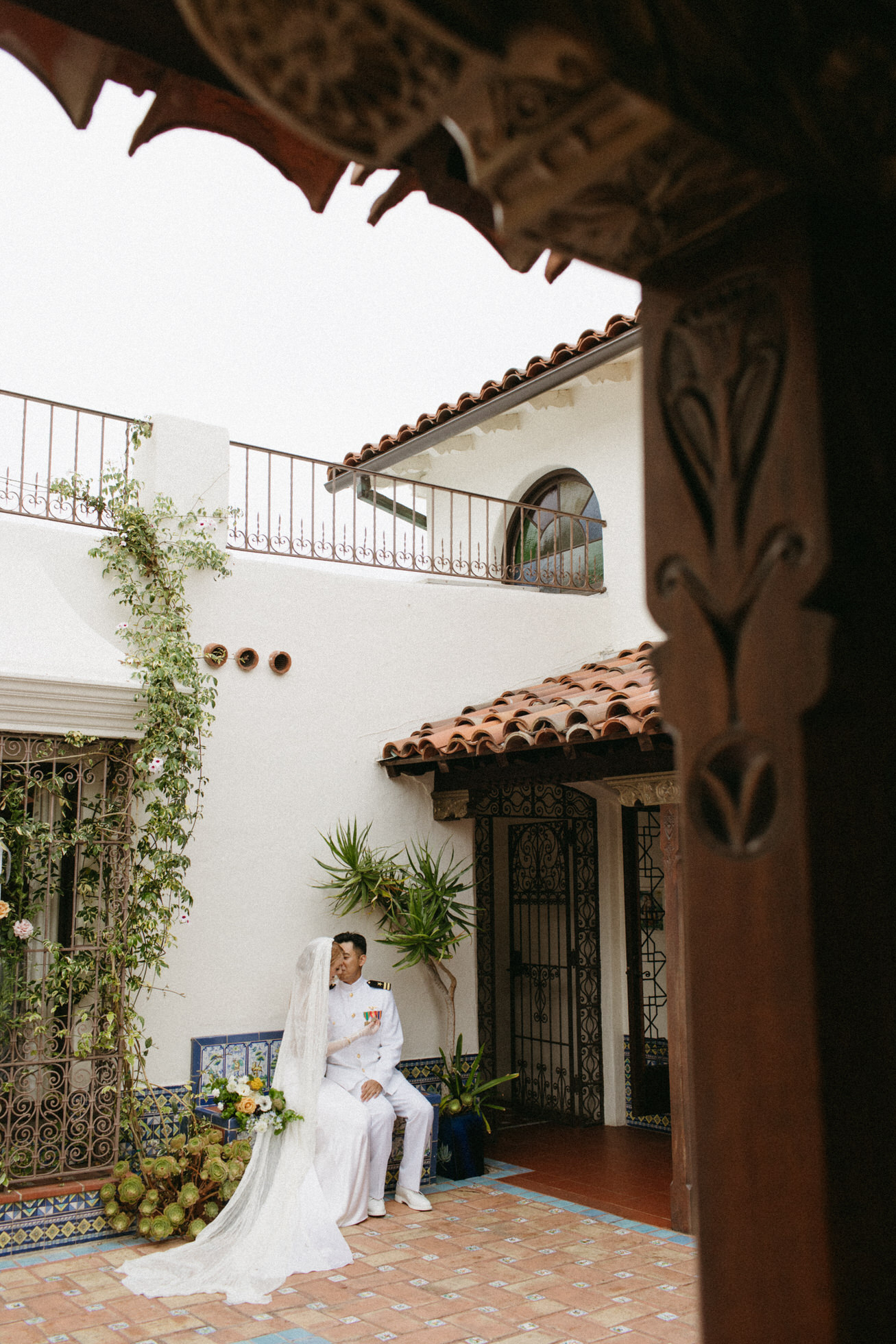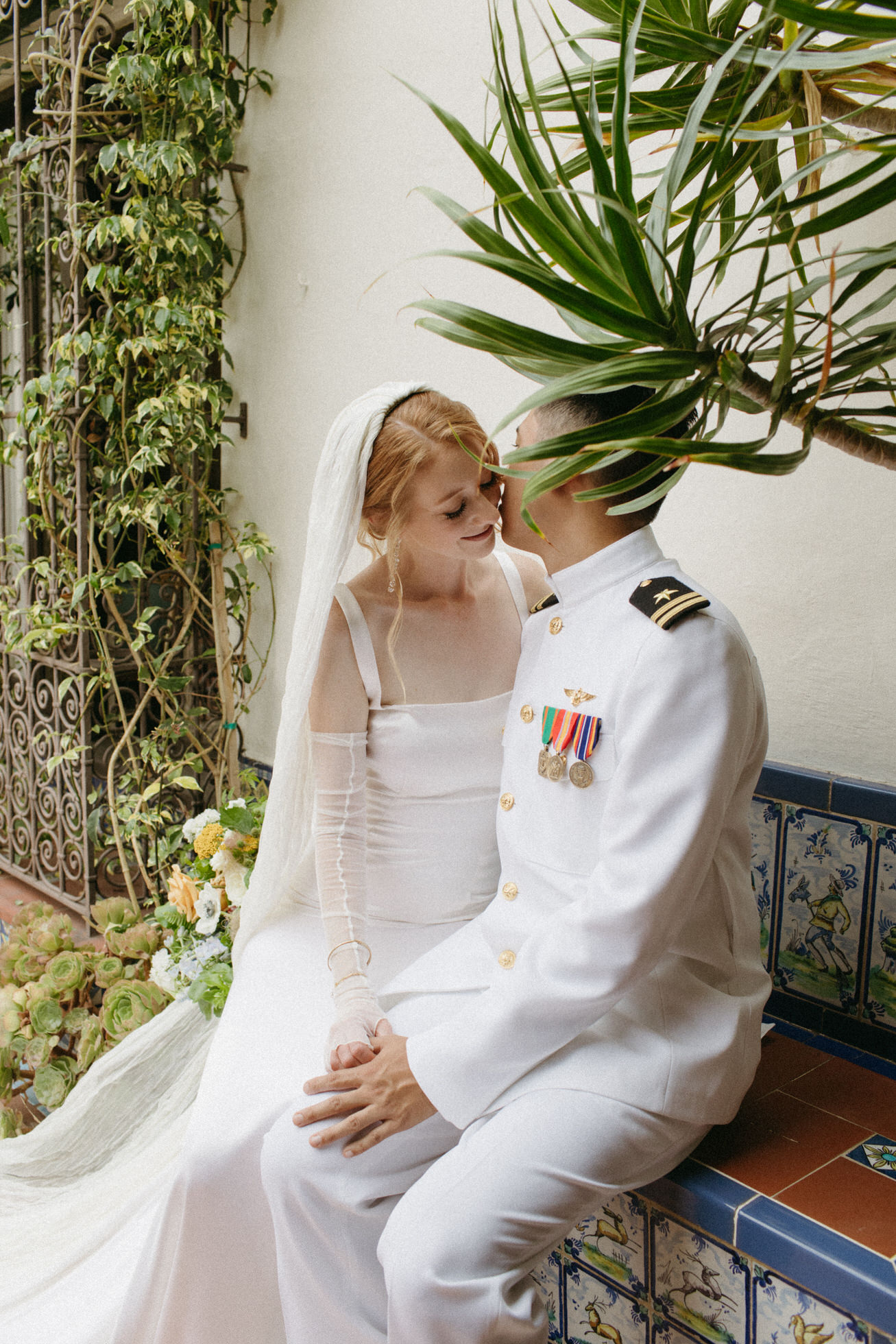 The Venue: The Darlington House
If you're dreaming of finding a wedding venue in San Diego that feels historical yet non-traditional, the Darlington house is certainly the perfect place to make it happen. The private estate is a historical landmark in San Diego that was built for Sybil Darlington as a vacation home. The home was built by 3 different architects and blends various architectural styles. Columns and tiles were imported and the ornate doors have been recreated based on inspiration from the Darlington family's world travels.
As a wedding photographer, I'm always looking for venues that have a special history and personality. Darlington House is one of those places that really stands out to me. From the romantic staircase that wraps around the entry room to the bridal suite with its amazing lighting, there are so many unique elements to capture. It's like having an elevated backyard wedding - the perfect setting for telling the story of your special day. The San Diego home is filled with artifacts from Sybil Darlingtons travels that feel so special and precious. There are multiple locations on the property to host your ceremony and reception. You have the ability to really make it your own. I'm always excited to shoot at Darlington House - it's a truly special venue.
One of my favorite things about The Darlington house is that it's a non-profit wedding venue. It's owned by the Social Services League of La Jolla. All profits from weddings held at the house go towards supporting a low-income senior care center. It's truly a beautiful place, and a great way to make a difference in the community.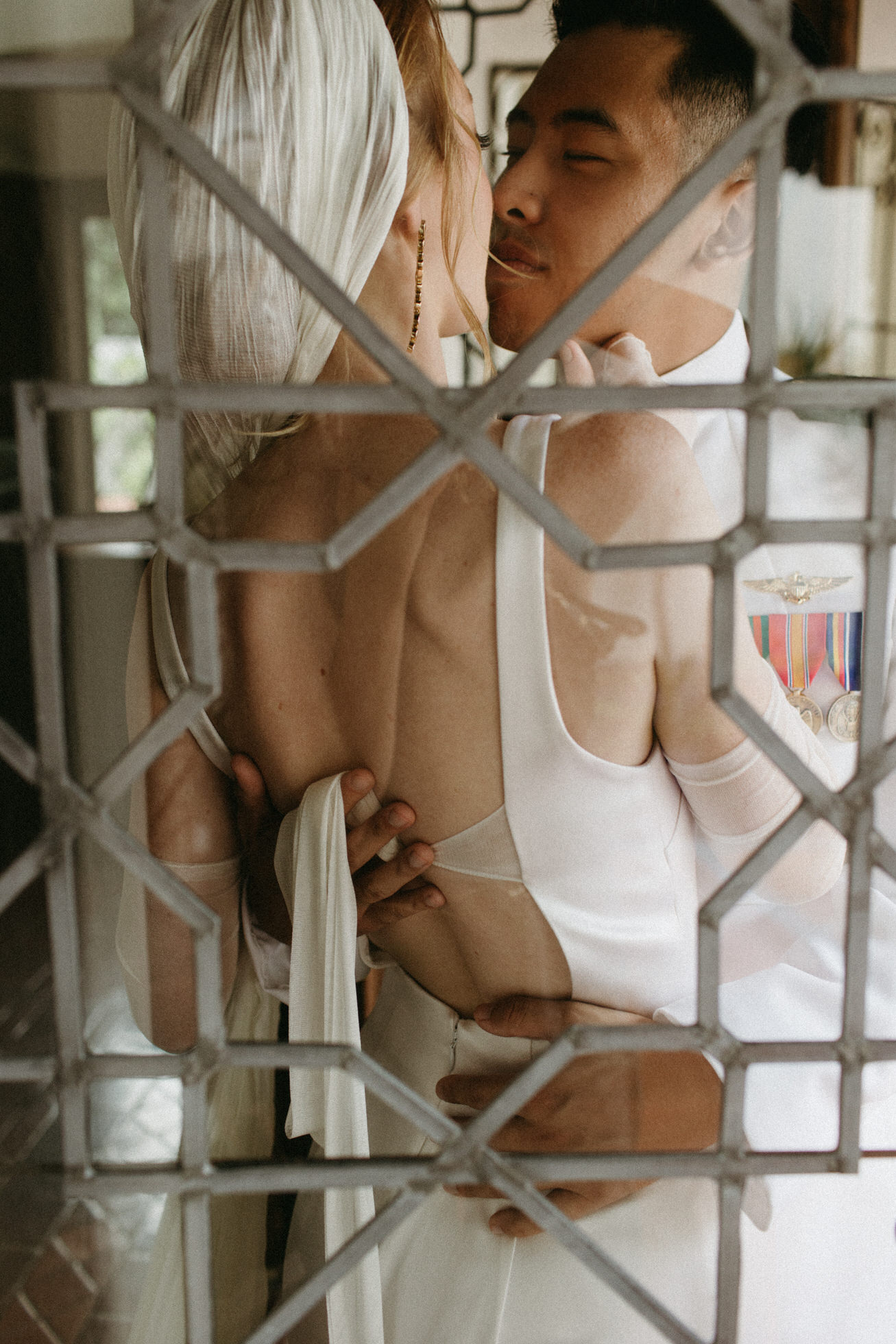 Questions for the bride and groom
What were the 3 biggest highlights of your wedding day?
Our absolute favorite part of the day was seeing the people we love from all over the country gather together around us at Darlington House. Our families live on opposite coasts, and our friends also live all over the place, so that was just really special for us. Our vows were also a favorite memory, getting to say them to each other in front of our family and friends, and our first look was very sweet and intimate.
Any advice for future couples getting married?
Like many COVID-era couples, we eloped with Elvis in Las Vegas before we had our wedding in San Diego. We think both of those things are totally worth it! Our elopement was so sweet and intimate, but it was also magical for us to have the chance to have a wedding with family and friends. I think the past few years have demonstrated that you can and should do whatever you want to celebrate your marriage.
Let's talk music- What song choices did you make any why?
Music is pretty important to both of us, so we spent a good amount of time choosing all of the special songs for our wedding. We each chose the song we walked down the aisle to. For Kent, it was "By Your Side" by Sade because it was a bit of a tribute to his mom who has always been there for him even when he was "down on his knees" and he wants to continue to show that love and devotion in our marriage. I chose the Bob Dylan song "Forever Young," but the recording by Iron & Wine and Rhiannon Giddens. The lyrics often make me cry, it's a beautiful blessing to have for your child and it makes me think of what my parents and late grandparents want for me and of Kent and I continuing our lives and family together. We also did our first dance to "Can't Help Falling in Love" by Elvis Presley because we eloped at the Graceland Wedding Chapel in Las Vegas, and Elvis serenaded this song to us and our immediate family as he escorted me down the aisle!
A note from Olivia about hiring Kadi Tobin as her wedding photographer for her stylish wedding at the Darlington House
Tell me about all the amazing things you guys wore because I loved your look
"The first thing that my husband and I decided on during our wedding planning process was hiring Kadi Tobin. We found her on Instagram and loved her candid, natural, true-to-color style, and we knew we needed to snag her for our wedding!
Speaking to Kadi throughout the planning process was always a breath of fresh air, she is so honest, real, and fun. We are grateful for her beautiful photography skills, as well as her candid presence and advice along the way.
We are so in love with the photos from both our engagement shoot and our wedding! Kadi does an amazing job capturing photos that are timeless, honest, artful, and fun, all at the same time! Something I realized the truth of during wedding planning is the importance of investing in photography. Your pictures are the only tangible item from the day you'll take away (except your spouse!), and you should hire someone whose vision and style you love. For us, hiring Kadi was a no-brainer, and we're so grateful for the beautiful memories she captured for us and for our family."
I wore a customized silk gown with silk tulle gloves and silk tulle veil by Cinq LA. I knew that I wanted something silk and a more classic, but with some interesting twist. I first saw the gown on Anti-bride, just looking for inspiration and I immediately knew it was just what I was looking for! I honestly thought finding something on a gorgeous publication like that would be inaccessible to me, either location-wise or pricing-wise, but I reached out to Macye from Cinq LA and was able to go to her studio in Downtown LA. The dress just felt right to me. I ended up learning that Macye and I are actually both from the same hometown, and that connection just made it feel that much more right!
I also wore a custom qipao from East Meets Dress as my second look. Kent and I wanted both of our families and cultures to be represented at our wedding, and my wearing a qipao was a beautiful symbol to us of our lives joining together. It was also such a fun and beautiful dress to wear to dance in, and I wore it the next day at our small tea ceremony too!
Kent is a Naval aviator, and he wanted to wear his dress whites for the ceremony because they look good and are very ceremonial. He also wanted to wear a navy tux for a more comfortable and classic yet cool look for dinner and dancing.
Kadi Tobin is a San Diego wedding photographer who loves to capture a couple's special day in a candid and photojournalistic way. She approaches each wedding with a unique and non-traditonal perspective, as if she were a friend or family member of the couple. Kadi's goal is to capture the feeling of the day, preserving the memories and moments of joy shared with loved ones. This wedding at Darlington House in La Jolla, San Diego was no exception. Kadi's passion and love for her craft was evident in the beautiful images she captured, making sure the couple will always remember their special day.