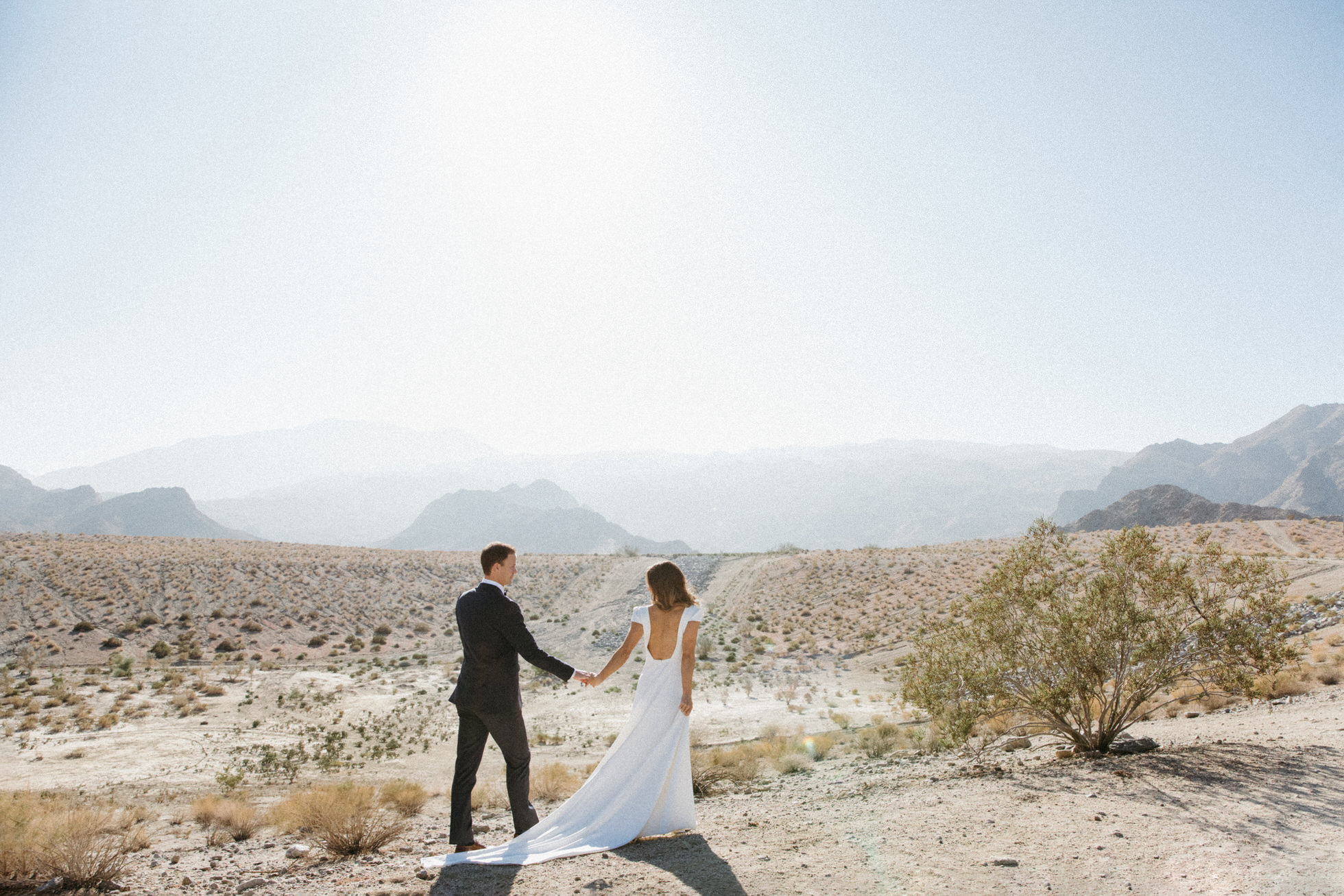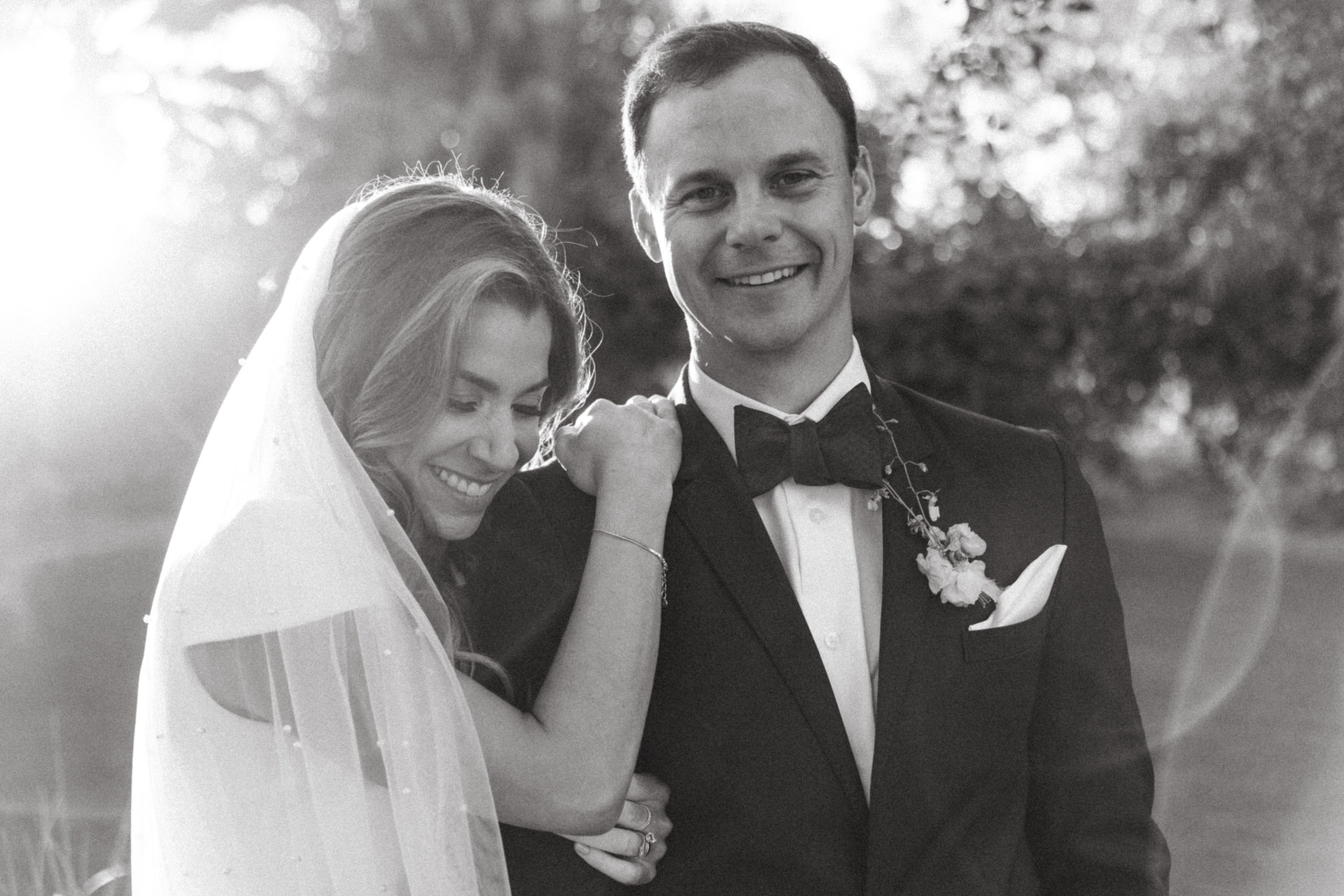 Alexis and Jared met on Bumble and went on their first date in San Francisco in the Marina district. They shared a mutual friend & a love for sarcasm, goofiness, mexican food, and dancing. During the pandemic they decided to live as digital nomads, and they loved the time they spent in Palm Springs.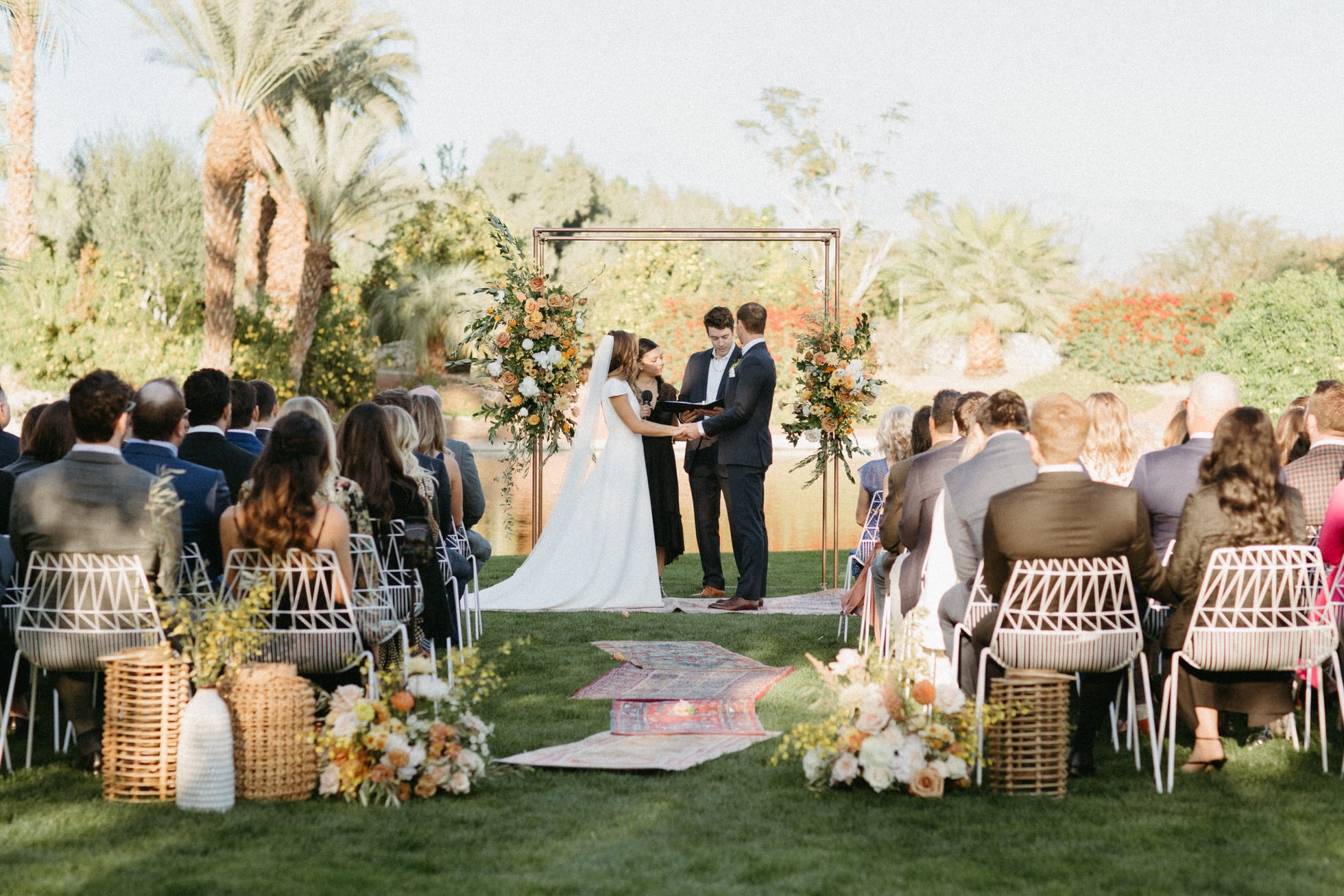 Alexis And Jared's Palm Springs Wedding was a perfect mix of A Laid Back Garden Soiree and an unforgettable dance Party With Touches of Old Hollywood Glamor.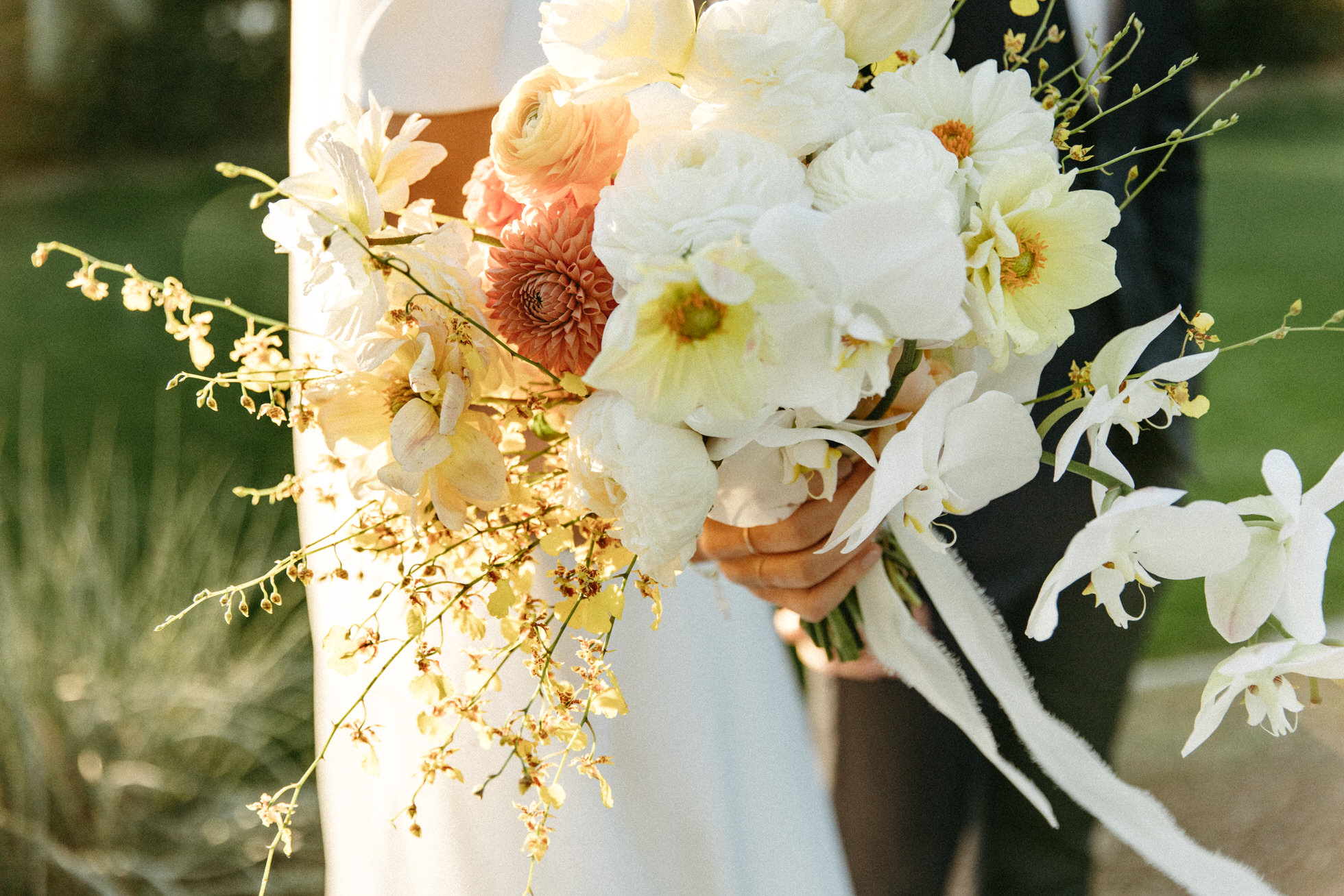 They knew when they got engaged that they wanted her wedding to be as trendy and fun as they were. They wanted their wedding to feel elegant with the details, but laid back with the vibe. The Bouquet had beautiful white Orchids draped from it and the ceremony florals were mostly elegant whites, with pops of warm neutrals. The warm desert color palette she chose matched the neutral tones of the surrounding area but stood out on the grassy lawn of the Bougainvillea estate like wildflowers. The dinner menu consisted of their favorite meal, tacos & margaritas. I think we all know that you can never go wrong with margs.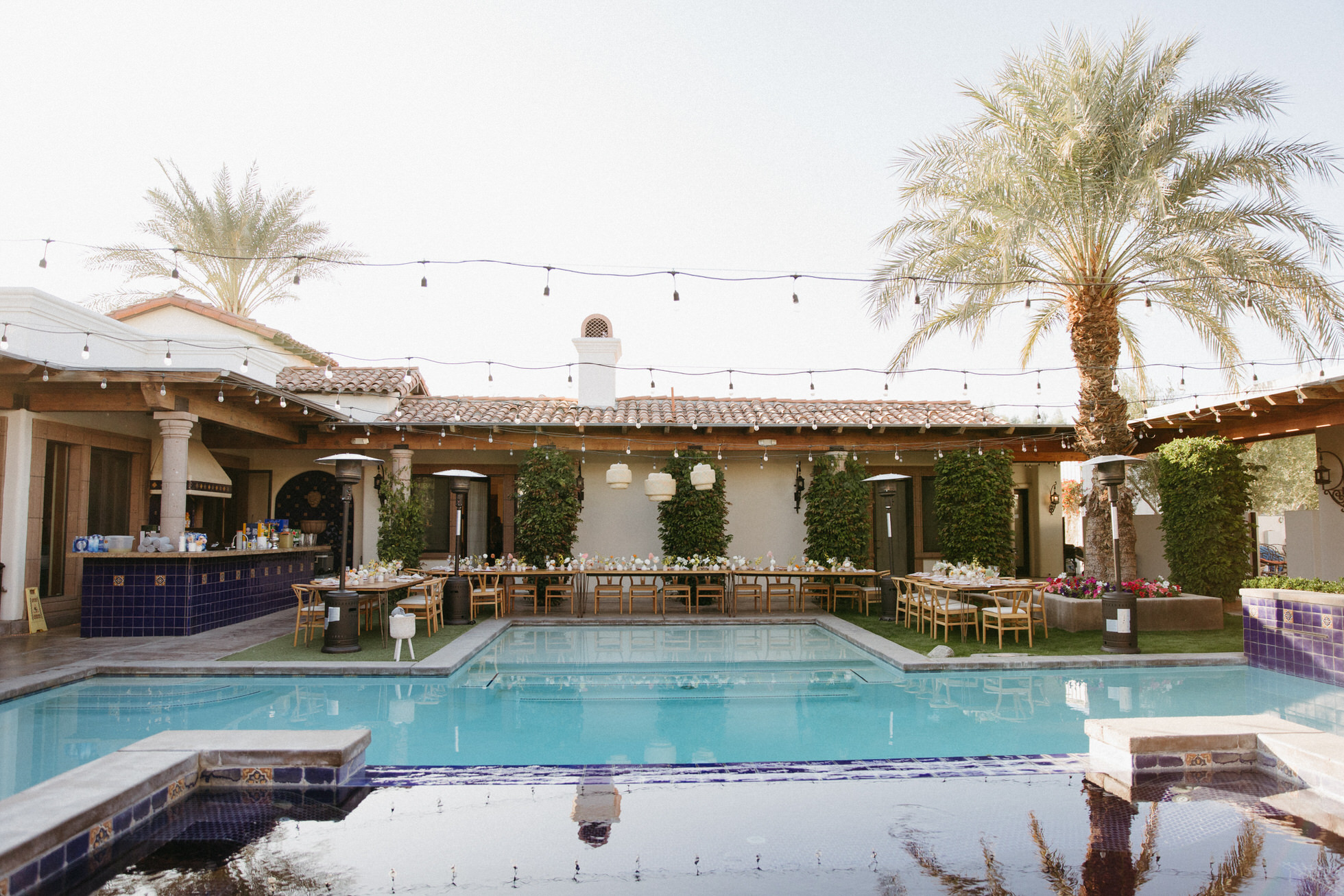 Following dinner they were celebrated by lovingly written toasts under twinkling lights. Everyone laughed as a bridesmaid introduced the guests to the brides childhood imaginary friend Kabodi, who became an honorary member of the wedding party.

Following the toasts, everyone headed to the estate's dance floor for an unforgettable dance party. The DJ kept the party going all night long under a custom neon sign designed by the couple themselves. The chef brought out churros and these exceptionally gooey chocolate chip cookies. They had an after party in the back house of the Bougainvillea Estate, featuring Taco Bell burritos.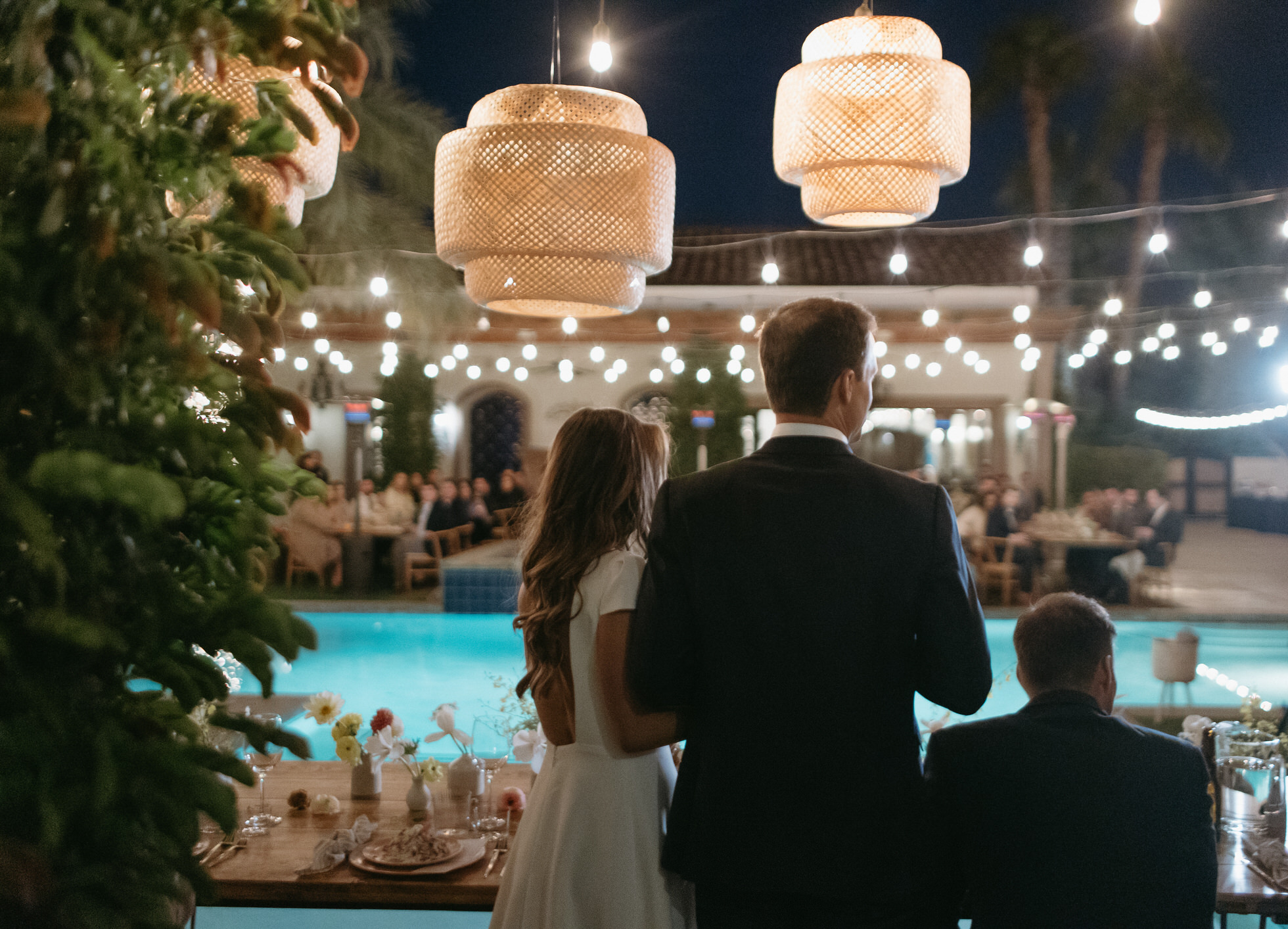 Their Venue
The Bougainvillea Estate

The Bougainvillea Estate is one of the best wedding venues in all of the greater Palm Springs area. It is a private estate with stunning landscaping located in Indio, California. Indio and Palm Springs are both known for their beautiful desert landscapes and their popularity as tourist destinations, particularly during the winter months. Palm Springs is known for its hot springs, golf courses, and luxury spas, while Indio is known for its hiking and festivals, including the famous Coachella Valley Music and Arts Festival. Palm Springs is a hub to hip resorts and mid-century design. Indio is really well known for amazing landscaping of date palms and citrus trees and expansive estates that you can host your wedding or event at.

The Bougainvillea Estate is recognized for its elegant and sophisticated grounds & architecture. The interior decor has a mix of vintage and modern touches. All of their grand rooms allowed for stunning wedding photos. The Mediterranean estate features stunning gardens, meandering pathways, a grand pool, and multiple indoor and spacious outdoor event spaces, making it an ideal location for a luxurious and romantic wedding. The property is stunningly green with pops of bright pink bougainvillea, lush citrus trees, and perfectly manicured palms.

The private home you can rent for your wedding offers a stunning backdrop of the Palm Springs mountains. One of my favorite things about working with this couple was that they really wanted to make sure we got some epic portraits. We held some time in the day so we could head to one of my favorite mountain vistas to get those classic Palm Springs wedding portraits.

What I love about renting a private home like the Bougainvillea estate for your wedding is that you have a lot of freedom with design. Starting with a blank slate really allows you to make your wedding unique and true to you. There are multiple locations on the property where you can host your wedding ceremony and reception. This couple decided to have their ceremony with the lake as their backdrop and have their reception around the pool. Whether you choose to exchange vows under a picturesque archway or dine with guests surrounded by the beauty of the desert, the landscape at the Bougainvillea Estate is sure to create a truly unforgettable experience. One of the unique things about choosing this venue for your wedding is that it's one of the only wedding venues in Palm Springs you can rent for the entire weekend. This guarantees you lots of time with all your loved ones who have traveled far and wide. A +J also had a welcome party and a hangover pool party all on site. You can even host an after party in the pool house or game room.

If you're thinking of having your wedding in Palm Springs and want a really unique venue with stunning grounds, take a page out of Alexis and Jareds book and head over to the Bougainvillea estate to check out the private home yourself. You're guaranteed to have an epic party. See for yourself below.


//a mix of film and digital photos from Alexis and Jareds wedding at the Bougainvillea estate in palm springs//
Palm Springs Wedding Photographer:
Palm Springs Wedding Planner:
Alexis & Jared on hiring me for their wedding at the Bougainvillea Estate in Palm Springs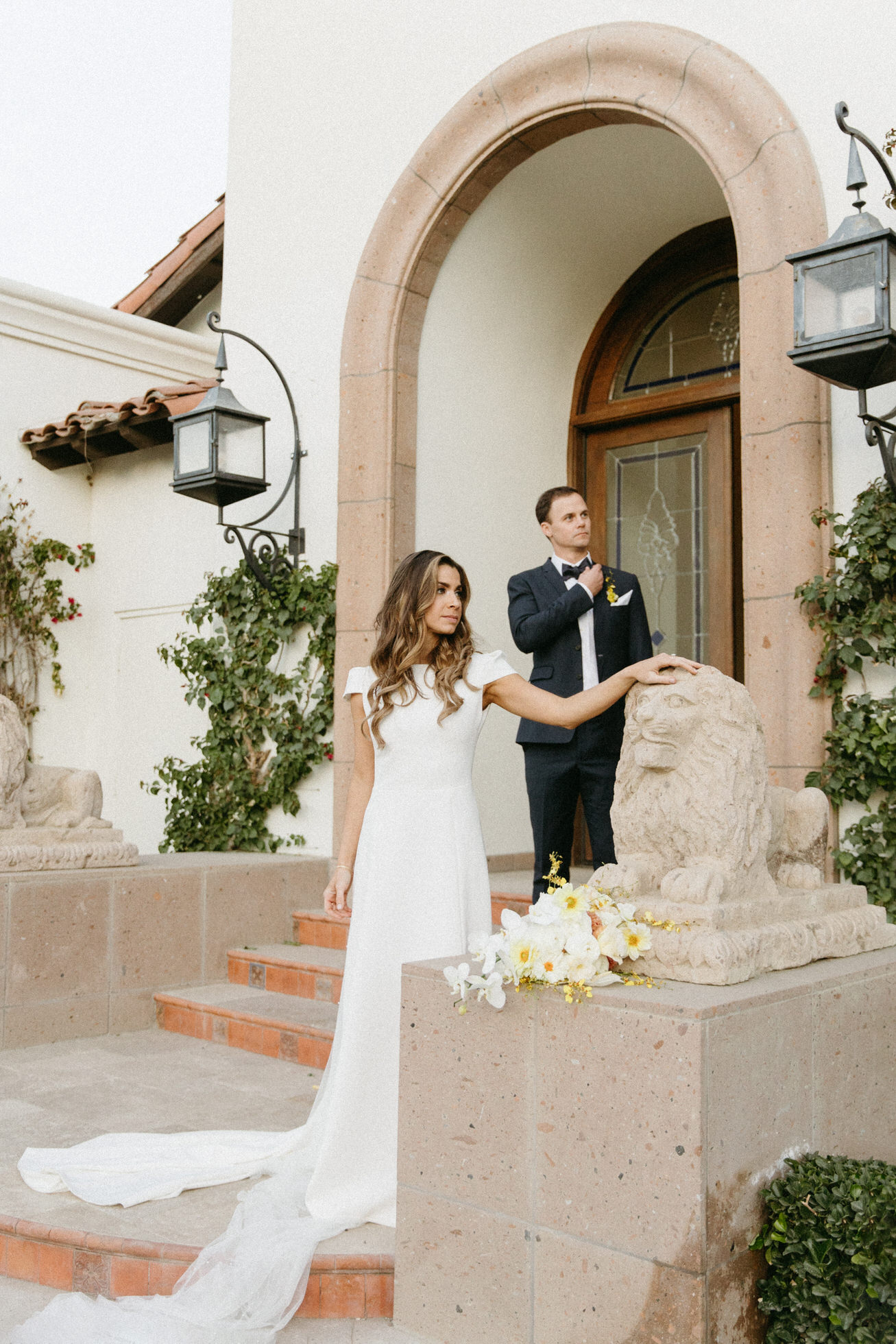 Kadi was an absolute dream photographer to work with. I wouldn't have wanted to work with anyone else leading up to, on, or after our big day. She is a kind soul who understands what couples go through as they plan a wedding, and she makes the photography process feel easy and breezy. And she cares about her couples! She works to understand how to capture the true essence of the couple; and she captured everything we wanted... and more. The day of the wedding, Kadi was the MVP. She assumed the role of photographer, producer, art director, and friend. From calming our nerves before the first look, to helping bustle my dress when all else failed, to bobbing and weaving undetected on the dance floor, Kadi went above and beyond as a photographer. But of course, more importantly- Kadi was able to capture moments of the day that we will treasure and look back on, forever. The look on my husband's face as I walked down the aisle, my 94 yr old grandma celebrating, the sunlight hitting my veil perfectly at golden hour. Kadi has a gift that I knew existed when I saw her work, but didnt fully grasp until she sent us the first round of photos. If you know what's good for you, you wont wait a second longer and you'll hire her to capture your special moments. You wont regret it 🙂