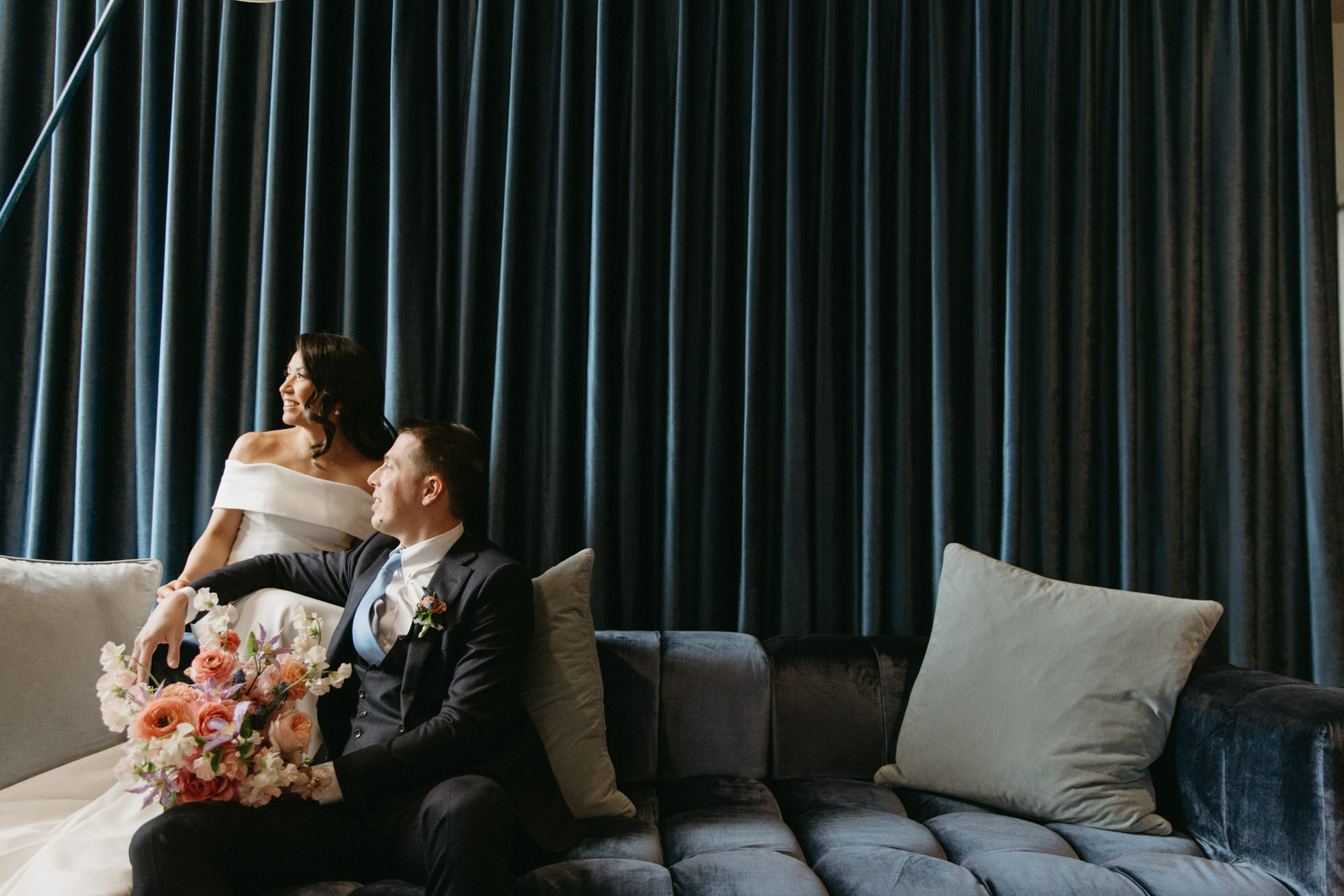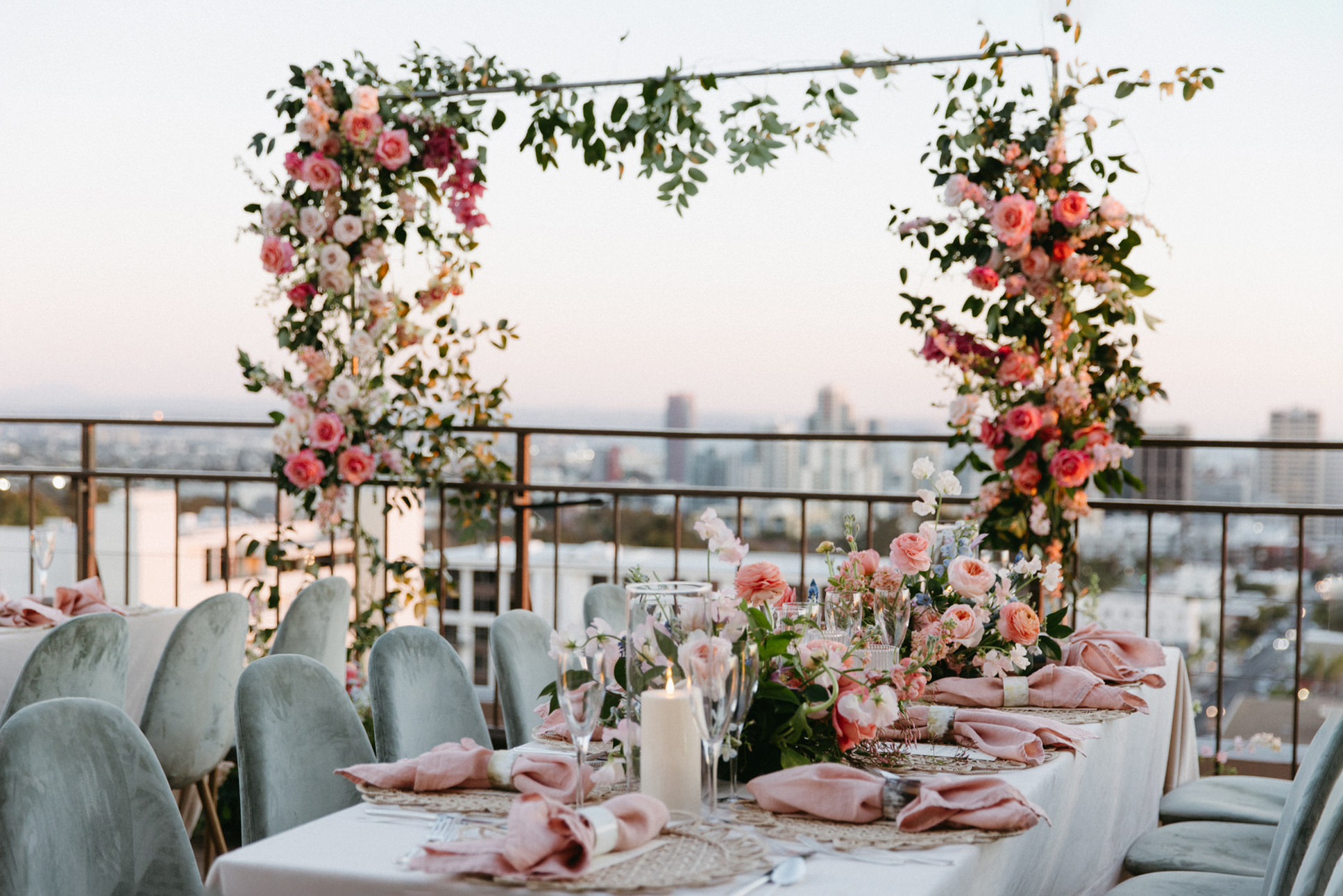 Christine and David's Unique Rooftop Wedding
An intimate wedding at the Guild Hotel & A reception to follow at the famous Mister A's rooftop Restaurant
Christine & David's Intimate Wedding at The Guild Hotel in San Diego
Let me start off by saying: I absolutely adore The Guild Hotel! It's a wedding venue loaded with history, sophistication, old-meets-new charm, and a handful of awards.  It's located right in the heart of downtown San Diego.
San Diego is where these two beaus called home for 10 years. The city of San Diego sits effortlessly on the Pacific Ocean. It's a spot that, on average, sees around 267 days of sunshine per year. And who doesn't love a bit of sunshine?
Quite honestly however, on the day of Christine and David's wedding, it was as if this happy couple brought their own sunshine in abundance. The sheer beauty, vibrance, and charm they both had for one another was an inspiration!
And so, here's the story of Christine and David—a pair of super goofy, easy-going yet sophisticated kids in love with whom I had the pleasure of photographing at The Guild Hotel in San Diego and Mister A's rooftop.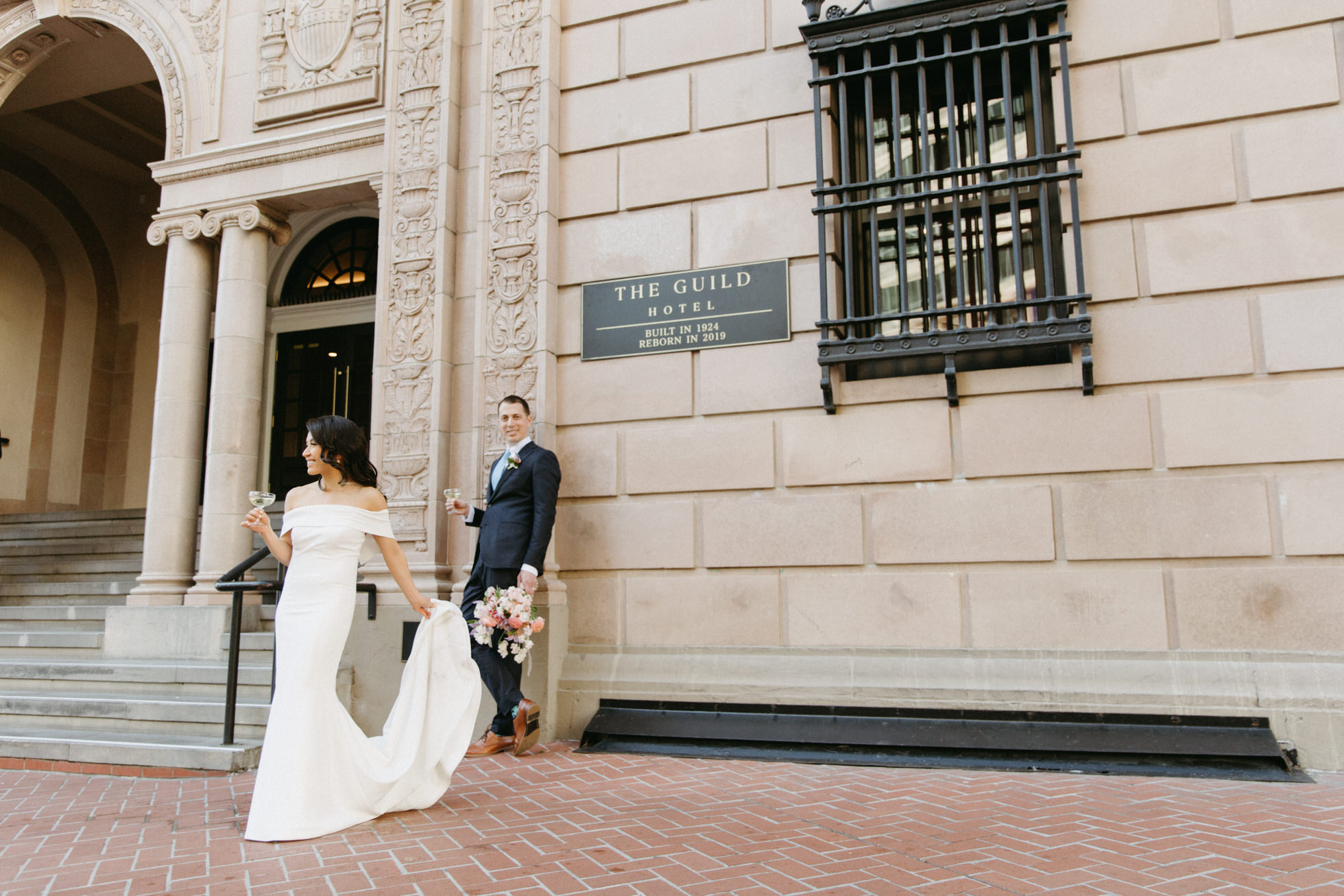 Christine and David
These two lovebirds; Christine from Los Angeles, and David from Oahu, have a pretty unique and spectacular story. They met at a pharmacy where Christine worked, and low and behold, it turns out they were soulmates!
They managed to find their happy place in San Diego where they lived for 10 years. But as they say; the only constant is change! So, they decided to make Denver their next stop. But not before saying their precious "I do's"! In fact, their San Diego wedding and their The Guild Hotel wedding photography session was a way in which to celebrate their little sendoff!
One thing I really loved about this couple is their adventurous side. They're so adventurous, in fact, that it was on one of their escapades that David actually popped the question! Christine had no idea that she'd be returning home from an eight-day backpacking trip through Alaska as an engaged woman! 
How did it all go down? David proposed with a ring sizer in a tent! If that's not a unique wedding proposal, then I don't know what is! This merely proves the fun-loving and adventurous spirits that both Christine and David have. Hearing their story was so refreshing and made me even more excited to photograph them at their wedding. And to find out that they wanted their wedding photography at The Guild Hotel? A dream!
I can't praise this wedding venue enough! It's got such unique architecture with a European flair (their quartyard has these cute black and white umbrellas that make for a perfect backdrop). And actually, The Guild Hotel is a historical gem as it used to be an Army-Navy YMCA. It was a place for visiting service workers to stay, and a haven for any navy or army veterans to train or play sports. Interesting fun fact, right?
Back to Christine and David…we had an incredible time as I shot some portraits. It was such a relaxed vibe filled with good energy, and we walked around and explored the hotel, admiring the beautiful interior design whilst getting some candid shots.
Then, when it came to their ceremony, it was such a heartfelt, intimate and close affair. So close, in fact, that Christine's sister was their officiant! The pair got ready at The Guild Hotel, which gave them (and I) a lot more time to really appreciate this historic wedding venue.
Their reception at Mister A's was dazzling with incredible decor on the rooftop patio. They chose a pastel theme color palette, and decorated the space effortlessly with seafoam chairs for the guests, and pink velvet chairs for themselves. 
What also brought their special day to life was the gorgeous floral pieces that were wild with an overgrown look. Pops of pink and green absolutely transformed the reception area, as well as beautiful rentals which elevated the space.
Another reason why I loved Christine and David's wedding? Their adorable pup was involved in their big day! He was present for the entire thing, joining in on the fun and tomfoolery. Sincerely, it was a day to remember filled with happiness, smiles, amazing people, and good vibes! 

So, if you're on the fence about getting married at The Guild in San Diego or Mister A's, I say: do it! It is such a treat to see couples in love, saying their precious "I do's" whilst basking in the sun with smiles and happiness.
San Diego Wedding Photography at The Guild Hotel
Did you know that The Guild Hotel was voted the Best for Uniqueness, according to the magazine, Brides, a reputable wedding resource for more than 87 years? Case and point!
This gem has been a historical space since 1924, and can be found in the heart of downtown San Diego. It underwent a stylish makeover in 2019, making it an intimate wedding location that's been reborn for the more modern individual. In fact, it was named "one of the most exciting hotels opened in 2019" by Forbes, and was described as a "masterclass in merging old and new," by Vogue Living.
In short, The Guild Hotel wedding venue offers:
Various event spaces perfect for ceremonies and reception parties, whether it's for an intimate wedding or a bigger celebration
Handicap accessibility
A dressing room space
Indoor and outdoor spaces
On-site accommodation (and a special group rate when booking accommodation)
Complimentary Wi-Fi
Lots of natural light
Garden access
AV equipment
Another thing that's great about choosing The Guild for your wedding venue is the fact that it's a hotel. This makes it a whole lot easier if you're having a destination wedding, or having attendees traveling from out of town. It takes all the guesswork out of their accommodation, and allows for a fun evening without having to worry about taxi services or driving.
With that, it's simply a no-brainer: a wedding at The Guild Hotel in San Diego is an excellent idea. It is such a treat to see couples in love, saying their precious "I do's" whilst basking in the sun with smiles and happiness at such a unique wedding venue.
Christine on working with me as her wedding photographer:
Kadi is truly one of a kind. I knew from her unique style and special ability to capture real moments, that I'd want her for my photographer!! Super professional, down to earth, communicative, and insanely skillful at what she does. Our intimate downtown San Diego wedding was captured beautifully thanks to Kadi's artistic craft. We are forever grateful, no one else compares or even comes close!